Portability - The Game Has Changed
Date:
Tuesday, May 27, 2014
Location:
Warren Averett, 36474C Emerald Coast Pkwy, Destin, FL 32541
Speaker:
Richard Franklin, McArthur Franklin PLLC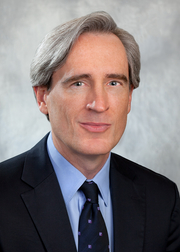 Richard S. Franklin, Partner
Background
Richard focuses on estate planning, trusts and estate administration, and beneficiary and fiduciary representation. He is a member of the District of Columbia and Florida Bars, is a Fellow of the American College of Trust and Estate Counsel, and is Co-chair of the ABA RPTE Section's Estate and Gift Committee. He serves on the ACTEC Transfer Tax Study Committee and on the Steering Committee for the DC Bar's Estates, Trusts & Probate Law Section. He has spoken at numerous estate planning programs and written on estate planning topics for Actionline, BNA Insights, Estate Planning, Journal of Multistate Taxation and Incentives, Probate & Property, Steve Leimberg's Newsletters, Tax Notes, The Florida Bar Journal, The Washington Lawyer, Trusts & Estates and the BNA Estates, Gifts & Trust Journal. Richard is a DC Super Lawyer and is ranked in the 2009 - 2014 editions of The Best Lawyers in America as a leading lawyer in the Trusts and Estates category. Prior to joining Virginia McArthur and founding McArthur Franklin PLLC, Richard was a partner at Pillsbury Winthrop Shaw Pittman LLP.
Since portability of the estate tax exclusion became part of the law in 2011, Richard has been intensely interested in the new planning possibilities it provides. He was one of the primary authors of the articles published by the ABA-RPTE Section, titled Portability – The Game Changer, Portability – The Regulations, and Portability – Part One, and one of the major contributors to four sets of ABA-RPTE's comments to Treasury on portability. He has also published articles on portability and been quoted in various publications. He has spoken about portability at the 48th Heckerling Institute on Estate Planning, and at other CLE conferences and meetings of the Tax and RPTE Sections of ABA, various state Bar Associations, ACTEC, estate planning councils and other groups.
Education
•LL.M. Estate Planning, University of Miami School of Law, 1988
•J.D., University of Alabama School of Law, 1987 (Law Review)
•B.A., University of Alabama Birmingham, 1984
Bar Memberships
•District of Columbia, 2004
•Florida, 1988
Professional Affiliations
•American College of Trust and Estate Counsel – Transfer Tax Study Committee
•American Bar Association – Real Property, Trust & Estate Section, Estate & Gift Tax Committee (Co-Chair)
•Florida Bar Association – Real Property, Trust & Estate Section