For Professionals
For information on joining this Estate Planning Council, please reference the "Application Form" page of this website or visit the "Contact Us" page.
---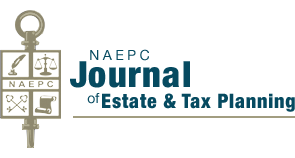 Regular Columns and Reports
Editor's Note: A Goodbye and Thank You to One of NAEPC's Greats
Complimentary Webinar: Life Settlement Legal and Ethical Responsibility (Video
Features​
Life Insurance in the Client's Best Interest: Seeing More Clearly in 2020
Drafting Income Tax-Sensitive Trusts Under the New Tax Laws
What Advisors Should Know About Hybrid Long-Term Care Policies
7th Annual Trust Decanting State Ranking Chart
The Life Insurance-Other Financial Services Sectors Communications Gap
Anticipating the Secret Scion in Estate Planning
The Little Known and Understood Living Benefits of Life Insurance
Collecting Another Country's Taxes—Recent Developments in the Canada U.S. Context
Updated Estate Planning for Pets, Pet Life Care Agreement, Pet Life Care Trust Agreement
News Nook: A Compendium of Current Affairs
Practical Planner Newsletter Jun-Dec 2019
What's New for Social Security in 2020?
Tax Topics: Statutory Residency and Wynne
Helping a Family Member Pay for Disability-Related Expenses? An ABLE Account May Help
NAEPC Monthly Technical Newsletter
Read the complete Journal issue.
---
Member Benefits
Members of NAEPC and affiliated local councils can take advantage of discounts on benefits, programs and services through our member benefit providers. Visit the "Member Benefits" page of this website to learn more.
---
Online Education That Fits Your Schedule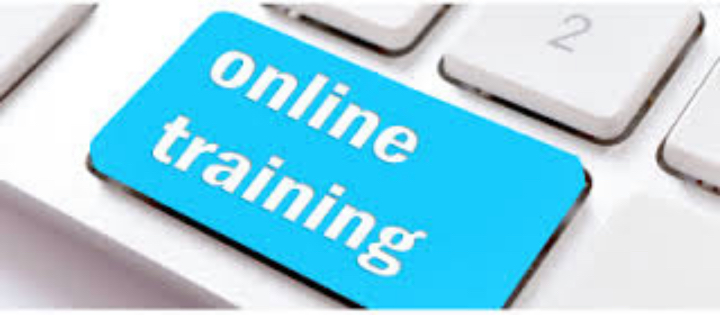 Advanced Training in Collaboration, NAEPCs Newest Member Benefit
LINK: online education brought to you by The Legacy Companies and sponsored by NAEPC
This fun, interactive and self-paced 9-module online course is loaded with content, including: how to prepare yourself for collaboration; how to conduct the initial client conversation; helping the client invite other; advisors to the planning table; how to have a successful initial meeting with other advisors; successfully hosting the Strategy Session; how to host the Client Recommendation Meeting; and the step-by-step 4 Phase Model for collaborative planning. > Read more about this exciting new member benefit or watch the introduction video
Educational Webinars Available Live or On-Demand
Robert G. Alexander Webinar Series
A complete list upcoming programs can be found on the "Event Calendar" page of this website and all programs can be found on the national website; sessions are available live or on-demand to learn at your leisure. Council members can always take advantage of the member rate!
---
57th Annual
NAEPC Advanced Estate Planning Strategies Conference
with Pre-Conference Sessions for Estate Planning Council Leaders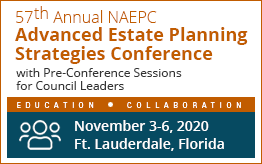 November 3-6, 2020 - Ft. Lauderdale, FL
The NAEPC Advanced Estate Planning Strategies Conference is open to all estate planning professionals and provides:
Multi-disciplinary content provided by nationally-known presenters
Continuing education credit (with an additional half day this year!)
Networking with estate planners from around the country
> See the most current program information
---
Accredited Estate Planner® Designation
How can you gain a "leg-up" on your competition in your estate planning practice? Obtain the Accredited Estate Planner® (AEP®) designation. Professional estate planners can achieve a nationally-recognized, graduate level accreditation that acknowledges their experience and specialization in estate planning. Awarded by the National Association of Estate Planners & Councils to estate planning professionals who meet special requirements of education, experience, knowledge, professional reputation, and character, the AEP® designation helps both clients and colleagues understand your belief in, and dedication to, the team concept of estate planning.
The designation is available to credentialed professionals actively licensed or certified as an accountant; attorney; insurance and financial planner; philanthropic advisor; or trust officer – holding one or more of the following credentials CAP®, CFA, CFP®,ChFC®, CLU®, CPA, CPWA®, CSPG, CTFA, JD, MSFS, and MST– who are devoting at least a third of one's professional time to estate planning. Eligible applicants must meet stringent qualifications at the time of application and commit to ongoing continuing education and recertification requirements.
Join the growing group of professionals who recognize the value of holding the premier estate planning professional designation. Become an Accredited Estate Planner® designee. > Learn More
---
Estate Planning Law Specialist Certification
The Estate Planning Law Specialist (EPLS) certification is available to attorneys and is administered by the Estate Law Specialist Board, Inc., an attorney-run subsidiary of the National Association of Estate Planners & Councils. Attorneys who become board-certified under this program demonstrate a high level of professionalism and commitment to the concept of specialization. This program is currently the only program, other than certain state bar association programs which are only for residents of their particular states, accredited by the American Bar Association to Board-certify attorneys as Estate Planning Law Specialists. Many states permit lawyers to hold themselves out as specialists if their certification is awarded by an ABA-accredited program. Each lawyer, however, must consult the rules in his or her own state to determine how such a certification can be presented to the public. > Learn more